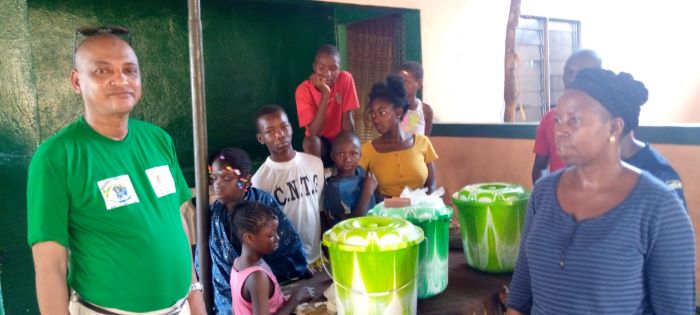 The humanitarian and corporate social responsibility arm of BFG Consulting and Services, known worldwide as Makongo Family Charity, Mafac, has donated anti-corona sanitation kits to some vulnerable communities.
The donation came on the heels of BFG Consulting and Services' Chairman's directives for the company to help prevent and combat the spread of COVID-19. Dr David Makongo had provided the resources with which the company took measures to clean and disinfect its head office, providing sanitary gels to all staff and also encouraging them to practice social distancing.
&nbsp&nbsp&nbsp
The package that was distributed to orphanages comprises of buckets, soap, bleach (eau de javel), brooms, face masks, gloves among others. The pilot phase of the distribution process began in the restive Bambeto neighborhood, Ratoma District, on the outskirts of Conakry, Republic of Guinea on March 21 2020.
Water and the bleach would be dissolved in the buckets and everyone who goes into the orphanage must wash his or her hands thoroughly.
Mafac's Guinea Director of Logistics, Mr Landho Mamadou who led the donating delegation said Mafac's Chair, Dr David Makongo will always stand for the underprivileged. He added that the kits should be properly used as the situation and spread of the virus remains worrying.
One of the officials of the orphanage named Humanism Sans Frontiere ( Humanism Without Borders) appreciated Mafac's efforts and prayed God to support the works of Mafac. Roger Moussa Tenkiano said it was not long ago that Mafac reached out with relief material of bags of rice, sugar, salt, vegetable oil among others and said Mafac is an example of an organization serving humanity.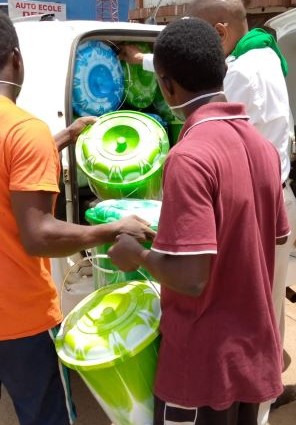 MAFAC's Sanitation Kits
The anti-Coronavirus kits were also shared to another orphanage still in Conakry, notably Aides au Enfants Deserites (Abandoned Children). The Director who received the gifts, Ibrahim Diallo also expressed gratitude to Mafac and prayed that BFG Consulting through Mafac continues to provide for the needy. Mafac intends to reach out with some consignment of the anti-coronavirus kits to other vulnerable communities. BFG Consulting and Services if the first mining consultancy firm to have begun the process of distributing anti Coronavirus sanitation kits in Guinea.
Worth mentioning, Mafac has also secured a good consignment of chloroquine for the future, as efforts are being made to combat the pandemic.